about_me_gallery-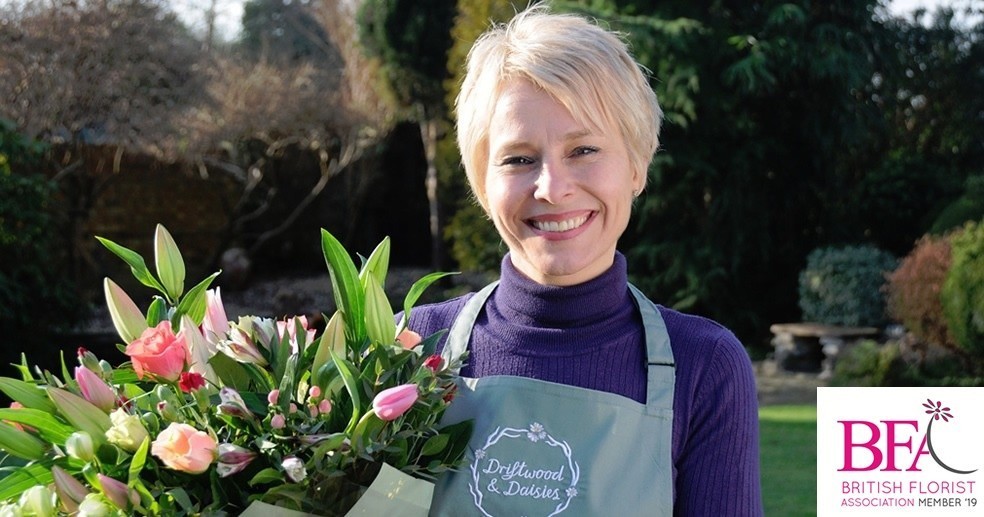 Hi, I'm Jo Parker, the proprietor of Driftwood and Daisies Florist in Fareham.
My aim is simple...
I want to help people convey messages to friends and loved ones with beautiful fresh flowers, but I don't want them to compromise on quality or style.
People often say to me, "your flowers are so different", "not the usual internet bunch"! What lovely words don't you think? I am truly grateful to everyone who has passed on their feelings about my gift bouquets, wedding flowers and funeral tributes. It is a total pleasure making them and I love what I do.
The secret is, and it's not really a secret, that Driftwood and Daisies is an independent florist and so it is not bound to a catalogue of bouquets and arrangements with suggested quantity of stems to be included. This style of floristry produces really boring and monotonous designs.
I love putting thought into every bouquet and tribute I make, selecting suitable colours, shapes and textures. Whether it be a simple 'thank you' bouquet or a personalised sympathy tribute such as The Allotment, your order will receive my undivided attention. My bouquets do not look the same!
Is this you?
If you need to choose flowers to say farewell to someone then I sincerely hope I can help. I really enjoy making these special designs and see it as an honour to do so. My tribute guide will help you through this difficult time but I do feel it's best to have a chat at times like this. I want to get it right, and therefore is imperative that I don't miss a thing. My mobile is 07887 350856.
I've heard you run workshops?
I love teaching floristry and flower arranging and have been doing so since 2001. It is one of the most rewarding things I do in my flowery world and believe it is a skill that my clients will find very rewarding and get repeat pleasure from. Who doesn't like receiving flowers and when you've made the design yourself the pleasure and rewards are priceless! If you would like to learn some basic flower arranging skills then why not click on Workshops to see if there is a venue near you. I look forward to welcoming you.
Jo is a gifted and inspirational teacher who brings out the best in her pupils. It doesn't matter at what level you are working, everyone leaves with the feeling they have achieved - no mean feat as at our workshops there is a wide range of experience from a qualified florist to more or less beginners. I would warmly recommend a Driftwood and Daisies' workshop to any of my friends because I know they would have a very enjoyable experience.
Jenny Smith - Shawford Floristry Group
Your website comes across as authentic & unique. It shows a love for what you do as well as providing a belief than you will produce something with thought & care. T. Hall
I just wanted to thank you again for the beautiful flower tribute you created for my father's funeral last week. We wanted red roses and I looked at so many florists on the internet before I found yours. I cannot recommend you highly enough. It is such an emotional time for anyone to go through but you were so helpful and I just knew after speaking with you that you understood exactly what we wanted and that the flowers would be perfect. Jo, they truly were. Thank you. Judy Rothwell
How did it all begin?
Well, between 1993 and 1995 I was studying an HND in Community Studies up in Manchester (having left home to start a degree but failed the first year, took a year out then went on to start this course because I didn't want to come home!) I wasn't enjoying the course and my poor house mate Heidi* was bearing the brunt of it! One day we were flicking through the Manchester Evening News when she spotted an advert for an NVQ Floristry course at a local college. Heidi read it out and I thought to myself "I don't want to be stuck behind a desk anymore, I want to do something practical".
I was 22 years old and from here my journey began. After a wonderful year of training I then decided to travel to Australia. Here, I was very fortunate to work in a superb Florist in Rose Bay, Sydney. I remember having to dip in and out of the cold store to cool down! Exotic flowers, such as Protea were a common flower in Australia, Irises were seen as something quite unusual!
Having met a dutch man on my travels, it wasn't long until I moved to Holland, and again I was lucky enough to find a part-time job in a florist near Arnhem. I could understand the customers if they asked for a bouquet to a specific value. I would say "welke kleur" and if they answered in a colour I understood, everything was hunky dorey! If they started chatting freely to me I would say, with a desperate look on my face, "Ik ben Engels"!! What a fantastic experience though.
Back to Manchester after 8 months and I got a job in my favourite florist ever, Barkers Florist of Timperley. I have such fond memories of working in this very busy florist. It had a great team of fabulous florists and we all got on so well. I learnt so much.
In 2002 I went into partnership and bought a going concern called "Wild Orchid". I loved the feeling of opening up and thinking to myself, this is my shop (well, half of it!) But it wasn't long until our first boy, Tom, came along. I knew I didn't want to spend six days in a shop with a newborn in nursery so I sold my share and started working part-time teaching Floristry at City College Manchester.
In 2008, Hubby and I, and our two lovely boys, Tom and Will returned to the south coast, and back to where I left from 17 years previous, Hill Head. I had missed living by the sea more than I ever realised. During this year I started working at Eastleigh college teaching NVQ level 2 Floristry and oh what wonderful people I met there, both staff and students.
2012 saw me getting itchy feet. I loved the teaching but was getting very uninspired marking heaps and heaps of assignments. In September 2012 I launched Driftwood and Daisies Florist and I am so glad I did. It's hard work (don't get me wrong, sometimes I long to go back to the safety net of being an employee) but I am getting there and I love producing beautiful designs in my lovely homely workshop.
* Heidi is sadly no longer with us but I do feel she has been with me on my flowery journey! (and continues to be!) I often think about the time she spotted the advert in the paper and think to myself "if it wasn't for Heidi, I may not be where I am today". Heidi loved flowers, one of her favourites were Anemone's, they're mine too!
Jo Parker
Driftwood and Daisies Proprietor
M: 07887 350856
20 plus wonderful years experience in the Floristry industry! Where has the time gone!
/opt/ft/core/content_blocks/bootstrap/CMSText/content.tpl.php