/opt/ft/core/content_blocks/bootstrap/CMSMoreElements/button.tpl.php
gallery-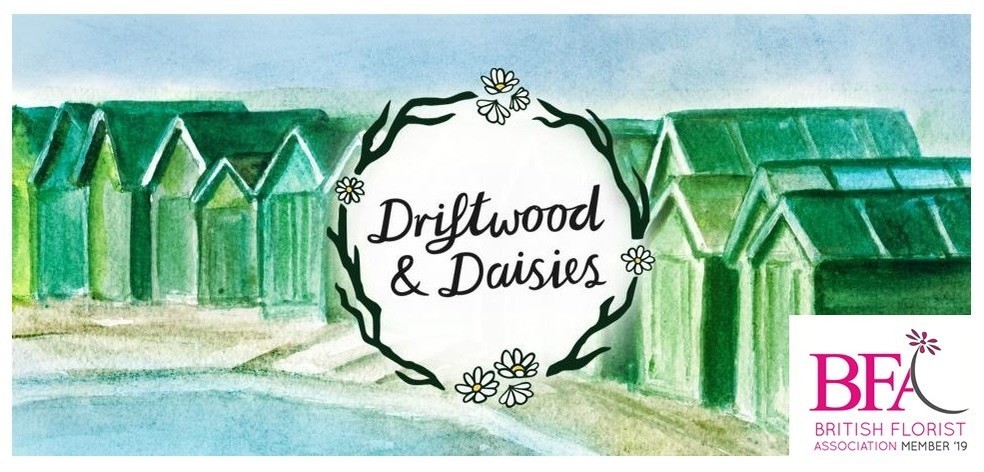 Welcome to Driftwood & Daisies Florist & Flower School, a Florist in Fareham
/opt/ft/core/content_blocks/bootstrap/CMSMoreElements/fb_paragraph_social.tpl.php
"Flowers with a difference that make a difference"
Hello my name is Jo Parker and I am the proprietor of Driftwood and Daisies Florist and Flower School, an independent workshop based florist in Hill Head, Fareham. Welcome to my website!
With the aid of our beautiful and personally selected flowers, Evelyn and I will help you send a message, share your thoughts, show your love and appreciation, and remember those dearest to you.
If you would like to have a go at making flower designs yourself then I may have just the flower workshop for you.
/opt/ft/core/content_blocks/bootstrap/CMSMoreElements/social_media.tpl.php
featured_item_45320-featured
Please use the navigation bar above the beach huts (of Hill Head!) to help you find what you are looking for and if you have time, please click on 'About me' to confirm your suspicions that you have landed on the right website!
News
Autumn workshops have now been launched. Please click here
If you would like to be the first to know my new dates as and when they are launched, please join my mailing list below. This is incredibly useful for September when my Christmas dates are launched. They sell out very quickly.
/opt/ft/core/content_blocks/bootstrap/CMSMoreElements/newsletter_signup.tpl.php
/opt/ft/core/content_blocks/bootstrap/CMSMoreElements/image_left_text_right.tpl.php
Always fancied having a go Floristry, then why not have a look at my Workshop page and see if there is something coming up that you'd like to join in with.
Fantastic day of floristry today with Joanna. Loved every second of it and can't wait to practice my new skills and do more workshops. Thanks for being such a friendly, informative, patient and fun teacher x Yvonne
Hi Jo, I just wanted to say thank you again for delivering flowers in time for my sister in law's birthday. Despite not being able to deliver on the first attempt you were willing to go over and above expectations to ensure they arrived on time. I would have no hesitation in recommending your business - even though we live over 300 miles away! You have a great website too. Thanks again, Kim
Dear Jo,
I can't thank you enough for the beautiful floral tributes you created for my husband Andrew's funeral on Wednesday, they were absolutely stunning.
When Andrew's sister Jude and I visited you last week to talk through ideas you seemed to understand instinctively the effect we were looking for. We both came away feeling confident that you would do a good job but what you came up with was more than good, the floral tributes were superb, and we were delighted. The choice of flowers and colours in all the arrangements was perfect; the double ended spray you created for me complemented the flag draped coffin so well, and the hand tied sheaves were lovely.
Your enthusiasm for what you do is evident and the service you provide is excellent. I will have no hesitation in recommending Driftwood & Daisies to others.
Thank you so much.
A. Culley
I have always used a florist in Portchester for flowers for funerals I have attended. I searched for ages this time as I wanted something very special for my Auntie who passed suddenly from Cancer. Jo was beyond amazing. She replied quickly to my emails even though I didn't expect a response over a weekend. Ordering and delivery to the funeral directors was faultless and easy.
The flower arrangements ?? ...... I was speechless. Jo did my Auntie proud. I did not even have to search for my arrangements. They stood out from all of the others and were absolutely stunning. I could not have wished or hoped for anything more as my final goodbye. I certainly will always return to Jo for any future arrangements I need.? .....S Barron
/opt/ft/core/content_blocks/bootstrap/CMSTextSet/content.tpl.php